I have added 2 new pizzas to my lineup!
The yummy thick crust which is assembled similar to a Chicago Deep Dish was an instant hit. It's made with different crust that I normally use and the crust is a bit more labor intensive but well worth it. The thick crust is baked in a pizza pan on a stone in mid range heat but for much longer (about 30 min).
Last night I debuted the White Pizza, whipped a white sauce up from scratch and it was excellent and then we complimented the white pizzas with artichokes, some Parmesan cheese, maybe a little ricotta and additional veggies if needed. The white pizza uses my standard crust and is baked on a stone in high heat (550).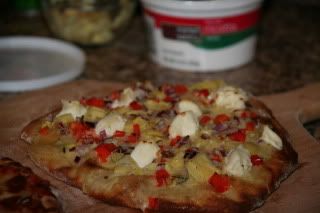 Notice the Market Pantry ricotta in the above pic! You can't walk into a Super Target without being attacked by Market Pantry or Archer's Farms items. At first I thought it was crazy but then after some price comparisons and taste tests I say BRING IT ON!
The sad news for my local Super Target is after April 4th I will never be back. My little town is getting its own grocery store,
Fresh Season Market
. I'm so stinking excited to go shopping in my PJs or without a shower and see my neighbors and everyone else I know!