I can't believe how ancient I feel now that I have to say I have a 5 year old! It's ridiculous and weird that turning 34 a month ago didn't phase me yet admitting my son is turning 5 today scares me.
Yes, 5 years ago today Preston George came into the world hollering and a tiny bit blue thanks to the hole in his lung. He pulled through both the hole and the massive lump he got on his head upon exit and continues to amaze me each day. He is a kind, smart, giving and wonderful boy who will grow up to be an amazing man!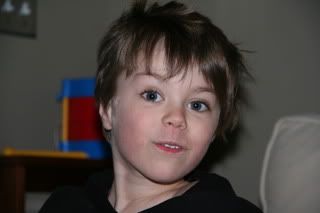 I also find it horrifying that my 3 year old thinks she is 5. Not to mention she asked for makeup the other day, I don't even wear makeup how in the world would she know about this stuff? Because she is 3 going on 13!