I made the brilliant remark about 2 weeks ago that I couldn't do real trees because I was positive the dogs would pee on them. Not long after those words left my lips one of the dogs pee'd on the ARTIFICIAL tree in the bonus room. I mean really who is dumb enough to mistake a fake plastic tree for a real one? And no I don't use any evergreen room fresheners. Then it happens again today, we are up to add another ornament to the tree and I notice a streak of yellow across the tree skirt and carpet.
The worst part is I can't figure out who did it. Milo lifts his leg so I would assume that mixed with the fact that most door knobs are smarter than him would make him the responsible party. Juno is young only 1 and was hard to potty train but she doesn't have accidents at all now but she squats to pee so that would make it easier to get the angle that I witnessed.
I suppose unless I catch someone in the act it may go unpunished!
Here's a but of background before we get into the next story - roughly 6 months ago I stopped doing husbands laundry. It started first with just not putting away the clean stuff and then moved to his dry cleaning and now I really don't touch any of it. The reason being the guy simply cannot pick up after himself so he takes off lovely dress shirts and dress pants and just rolls them into a ball and leaves them in various places around the house. NOT ACCEPTABLE!
Here's a pile that hasn't even made it to the huge walk in closet.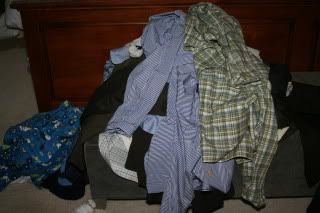 So we are waiting for husband so we can leave for the kids Christmas Program last night, I loaded everyone into the truck and we sat in the driveway watching for his truck. It took a solid hour to wash the kids up and get them slicked up and dressed. I actually showered, put on a nice black dress/boots, dried my hair and curled it so by many accounts I looked HOT! Husband arrives home and jumps in the car in jeans and a flannel looking shirt. My mouth fell to the ground, who goes to work in an office building dressed like a lumberjack? Who goes to their kids Christmas Program dressed like a lumberjack when their wife looks hot? Only my husband and only he thinks its hilarious that he has been wearing jeans to work everyday because his 6 week supply of dress shirts and pants is laying in a pile in our closet!
The kids did a great job at their one and only dual Christmas Program performance.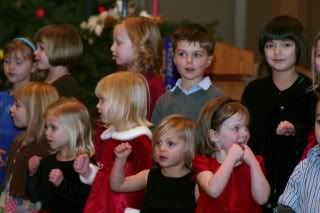 On a brighter note I made Oreo Truffles (or Santa Balls as I called them) this week. I just ate another one when I hit a piece of something that was unchewable. Upon further examination this piece was wood and its from my wooden spoon which I kept sticking into the blender while I attempted to get the mixture to blend. I'm out one wooden spoon and perhaps a bit of embarrassment if any of the truffles that the kids gifted their teachers with have any extra parts present. Here's the recipe and a pic of the creation (I did let the kids do the chocolate dipping)

Oreo Truffles
Prep Time:
30 min
Total Time:
1 hr 30 min
Makes:
3-1/2 doz. or 42 servings, one truffle each
What You Need
1 pkg. (1 lb. 2 oz.) OREO Cookies, finely crushed, divided
1 pkg. (8 oz.) PHILADELPHIA Cream Cheese, softened
2 pkg. (8 squares each) BAKER'S Semi-Sweet Chocolate, melted
Make It
MIX 3 cups of the cookie crumbs and the cream cheese until well blended. Shape into 42 (1-inch) balls. Refrigerate for 1 hr.
DIP balls in melted chocolate; place on waxed paper-covered baking sheet. (Any leftover melted chocolate can be stored in tightly covered container at room temperature and saved for another use.) Sprinkle with remaining cookie crumbs.
REFRIGERATE 1 hour or until firm. Store any leftover truffles in tightly covered container in refrigerator.
Remember, don't stick wooden spoons into an operating blender!