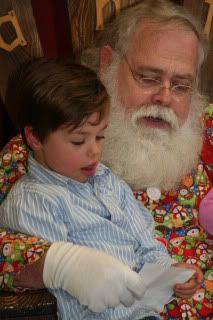 Preston wanted to ask Santa for a chainsaw because he just bought his Secret Santa one and he fell hard for it. I helped him write his wish list and we put the chainsaw at number five behind the safer presents (blocks, books, video game and art supplies).
The visit to Santa was a huge success and although its down right chilly here the sleigh ride was fun.
For those of you that asked, her is my Citrus Peeler getting ready for action and here is the
link
so you can get your own!