This beautiful figure was given to me by Carissa to commemorate the passing of my Grandpa who was a Vet. The figure is a woman (my Grandma) holding a wrapped flag that would have been presented after internment.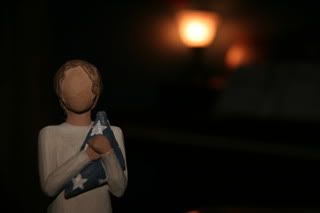 I got this shot late on Saturday night in manual with no flash (not going to look up the specifics) but it just fits. Miss you Grandpa and Gram we love you, stay strong.
Thank you to everyone who passed along their support.
I'm having some technical difficulties with my Microsoft Office, I have a trial version of 2007. Well since I never reboot my laptop I didn't realize it had expired so I need to go to Best Buy and purchase it so I can send emails again. So if you are expecting an email from me and don't have it, that is why.