BFF's & I went to a GNO shin dig at which you design your own outdoor holiday baskets, buckets, tubs, stands etc. IT ROCKED!!!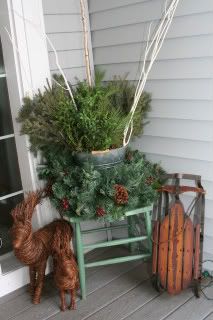 First of all it was very thrifty, I did 2 large planters and a small bucket for $22 and all the greens are fresh and the selection was top notch - Spruce tips, juniper swags, pine branches etc.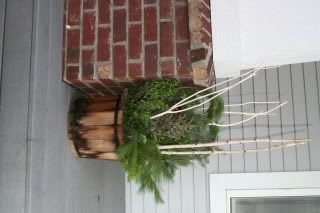 Second of all it was fun, just a relaxed evening of girl talk and holiday prep. This of course occurred after it took us 45 minutes to get out of the Mall of America parking lots! Once we got away from MOA we spent a couple hours designing our planters (in my case I just bought the goodies and brought them home because I had not cleared the dead mums/kale from my planters). At this point a drink and food is needed so we wrapped up the evening with a quick bit to eat.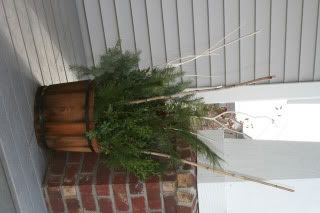 I just put together my planter this morning and I love them, they need a splash of red from some berries but are otherwise set. I also managed to get the 2 outdoor Christmas trees staged, the white lights on my evergreen up and my other holiday/winter stuff out. I also had to erase the last bit of fall by pulling up all my mums and kale from FROZEN soil. It has been cold but I didn't expect it to be so much work to get them extracted.
I'm off to make a hearty vegetarian chili in the crockpot.