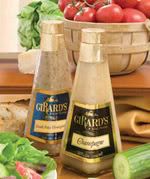 I can't get enough of it, I figure you can eat it on salads, pastas, sandwiches or really anything! I can't get enough of Gerard's Light Champagne Dressing.
It all started last night with an impromptu get together of homemade pizzas and a salad (brought by a friend). The salad itself was perfect - greens, onions, hearts of palm, artichokes, blue cheese - yum! But then the dressing was added and its safe to say that 4 grown women stood around a bowl of salad and devoured it!
I do feel better knowing that I have friends with the same addiction as me.